Innovate UK member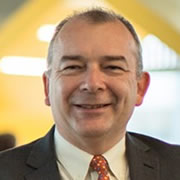 John is Vice-Chancellor and CEO of the Coventry University Group and leads delivery of the University's strategic objectives, as agreed by the Board of Governors.
John is a double graduate of the University and has a background in information technology and telecommunications. He has held high-profile roles at regional, national and European levels promoting innovation, technology and economic development.
He previously worked for private sector organisations including JHP Group, Jaguar Cars and BT. He chairs the University Alliance mission group and is a board member of Innovate UK and the Coventry and Warwickshire Local Enterprise Partnership.
John is an advisory board member of the National Growth Board. He is Extraordinary Professor in the area of enterprise and entrepreneurship at Stellenbosch University, South Africa.
Last updated: 19 October 2020