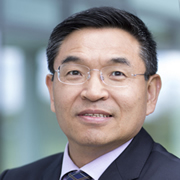 Professor Max Lu is President and Vice-Chancellor, University of Surrey. He was Provost and Senior Vice-President at the University of Queensland where he spent nearly 30 years. His area of expertise is in chemical engineering and nanotechnology.
He founded the Australian Research Council (ARC) Centre of Excellence for Functional Nanomaterials as its inaugural director. He is co-inventor of over 20 internationally granted patents, and is double highly cited researcher (in Chemistry and Materials Science). He is elected Fellow of Australian Academy of Science, Australian Academy of Technological Sciences and Engineering, Royal Society of Chemistry, and Institution of Chemical Engineers.
He is currently a member of Prime Minister's Council on Science and Technology, and also serves on boards of National Physical Laboratory, Universities UK and Leadership Council of the National Centre for Universities and Business.
Professor Lu was awarded Officer in the Order of Australia (AO) and Deputy Lieutenant of Surrey (DL) in 2017.
He has served on high level Australian government committees, including ARC College of Experts, and was past Chairman of Institution of Chemical Engineers Australia Board and former Director, Australian Academy of Technological Sciences and Engineering.
Last updated: 26 October 2020