23 March 2020 is a date that will be etched into the records of British history. The day we locked down. Since then, COVID-19 has turned the world upside down, taking millions of lives and disrupting families, societies and economies.
Borders closed. Shops shuttered. Streets emptied.
For individuals, living rooms became offices, gardens became gyms, and kitchens became classrooms. We embraced dressing from the waist up, as teleconferencing became our primary means of collaborating, learning and socialising.
For businesses, challenges extended far beyond the need to integrate a remote workforce. Companies faced reduced access to capital, cancelled orders and supply chain disruption.
Necessity is the mother of invention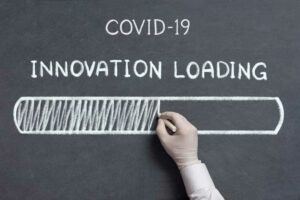 As the UK's national innovation agency, it was imperative that we supported companies to innovate their way out of this crisis. Helping them digitise services, fast-track disruptive products, or access new markets.
Over a single, intensive weekend, we designed a portfolio of ambitious rapid-response programmes to deliver targeted support to innovative businesses when they needed it most.
This enabled us to agree a £750 million COVID-19 response package from the government, which we divided between expanding our business advisory services, protecting existing investments through flexible working capital and additional funding.
Also through delivering new funding competitions, like FastStart (empowering companies to tackle urgent societal needs) and the Sustainable Innovation Fund (helping the UK to build back better and greener).
Recovery, renewal and rapid innovation
2020 was labelled 'the year the world stood still', but for the businesses we serve, that could not be further from the truth. As the pandemic took hold, the UK's appetite for innovation was one of the few things to outpace our appetite for toilet paper.
Our COVID-response programmes generated unprecedented demand. The FastStart competition, just one component of our COVID-response, received over 8,600 applications, more than we received across all competitions in 2019.
To-date, our COVID-response has delivered £400 million of new investment to over 3,000 research and development-intensive businesses in every corner of the UK. Our specialists at Innovate UK EDGE have provided expert advice on finance, growth, and globalisation to a further 2,700 companies. These numbers grow day by day.
The UK's burgeoning appetite for innovation was also seen across our core-programmes: Smart Grants, Women in Innovation, Industrial Strategy Challenge Fund, Young Innovators etc. also saw double, sometimes triple-figure growth in applications.
The proof of the pudding is in the eating
Although we are proud of these funding figures, it's the socioeconomic impact of these investments that really counts. Some examples:
Lockdown saw huge growth in home deliveries. One of the trickiest aspects of the retail supply chain is the 'last mile', the product's journey from warehouse to doorstep. It also represents a barrier for delivery companies' net-zero ambitions.
With support from our FastStart programme, Fernhay responded with an updated electric assist, emission free eQuad now in production and sales with customers like United Parcel Service. Designed and built in the UK, Fernhay is exporting the eQuad to the EU and hopes to be on every delivery network in the world.
The UK has the lowest breastfeeding rates in the world, due to lack of access to consistent professional support. A challenge that has been exacerbated by the pandemic.
With support from our Sustainable Innovation Fund, LatchAid developed an app to assist breastfeeding mums using interactive 3D animations, complete with customisable body settings and anatomical views inside the baby's mouth, in addition to virtual peer groups, live experts and a sentiment-based artificial intelligence supporter.
LatchAid also received support from Innovate UK EDGE for the Beta launch, an intellectual property audit and a future financing strategy to fuel their next growth phase. They are also planning a technology pilot with seven NHS trusts and is preparing to launch on Apple's App Store this summer.
Finally, the arts and culture industry, which typically contributes £11 billion a year to the economy, was especially hard hit.
With support of our FastStart competition, Curtain Call developed a talent-booking marketplace using a unique matching algorithm to connect creative and technical freelancers with work opportunities.
With Innovate UK support, Curtain Call increased headcount, secured follow-up funding and further developed their platform, which is set to become even more successful post-pandemic.
Within crisis are the seeds of opportunity
This is just the tip of a vast iceberg. Our COVID-response programmes reached thousands of innovative companies in every region and every sector, from medicines to education and from agri-food to transportation.
I am immensely proud of the resilience, dedication, and nimbleness of my colleagues at Innovate UK.
Collaboration is at the heart of innovation and our collective efforts have enabled businesses to rapidly develop products and services that are transforming lives and boosting economic growth.
Although feedback is still being collected and analysed, early data suggests that, of the 4,340 of companies supported through our COVID-response programmes to-date:
78% said Innovate UK support helped them safeguard staff
81% were able to develop new products and services
88% secured new customers or entered new markets
10% penetrated overseas markets for the first time
74% said that their innovations would not have been possible (or at least not as timely) without our support.
As the clouds begin to clear
Storms add colour to rainbows. Darkness adds intensity to stars. For all the damage that COVID-19 caused, it gave innovative businesses an opportunity to shine.
As evidenced by the explosive growth in grant applications, the pandemic has triggered a surge of entrepreneurialism in the UK and highlighted the importance of business-led innovation, for both catalysing growth and building resilience.
Post-pandemic, 'business as usual' will not be enough, the game has changed. However, the companies that embrace innovation as a strategic priority are laying the foundations of enduring success.
As Britain builds back better, Innovate UK will continue to bring together industry, government and academia, to unleash business-led innovation in all areas of the UK.
Video credit: Innovate UK
On-screen captions and an autogenerated transcript is available on YouTube.