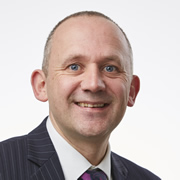 Dr Ian Campbell was appointed Interim Executive Chair of Innovate UK, the UK's innovation agency, in May 2018, having joined as Director for Health and Life Sciences in 2016.
Ian is an experienced executive in life sciences and the diagnostics sector. He served as Chief Executive of Arquer Diagnostics, a company developing and commercialising immunoassay tests for cancers of the urinogenitary tract.
Previously he served as Chief Executive of Imperial College spin-out company Molecular Vision, developing a disposable, quantitative point-of-care diagnostic platform, before being acquired by Abingdon Health in 2012.
Ian has also served as Commercial Director with Bespak Europe. Ian has a strong scientific background, gaining his PhD at the University of Glasgow.
Last updated: 26 October 2020