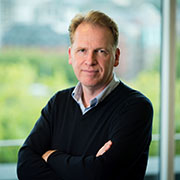 Nigel Toon is the co-founder, Chairman and CEO at Graphcore.
Graphcore is a young silicon and systems company that has developed a new type of processor to accelerate artificial intelligence. Since the company's founding in 2016, Nigel has secured over $700m in funding and support for the company from some of the world's leading global venture capital (VC) and strategic investors.
Nigel has a background as a technology business leader, entrepreneur and engineer having been CEO at two successful VC-backed processor companies and at a major US based publicly listed semiconductor company.
He is often called upon to speak at major industry events. He has been recognised with numerous industry awards including:
icon of the year at the Barclays Entrepreneurs Awards
ranked number one on Business Insider's 100 most influential people shaping British technology
been recognised as one of the top 100 entrepreneurs in the UK by the Financial Times.
Nigel has served as a Board Member and Chairman at a number of technology businesses. Including as a non-executive director at Imagination Technologies PLC, as well as leading their technical advisory board, until its acquisition in 2017.
He is the author on three granted patents.
Last updated: 14 October 2021