Council member, Research England
Period of appointment: three years, from April 2022 to March 2025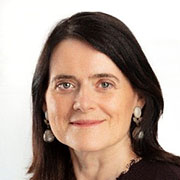 Bronwen Maddox is the director of the Institute for Government, the UK Think Tank working to make government more effective.
She joined the Institute in 2016 from the current affairs magazine Prospect, where she spent six years as editor and chief executive.
Bronwen was previously Chief Foreign Commentator, Foreign Editor and US Editor at The Times, and before that she ran award-winning investigations and wrote economics editorials for the Financial Times, after a career as an investment analyst in the city.
Last updated: 8 April 2022