Innovate UK Chief Executive Officer (CEO)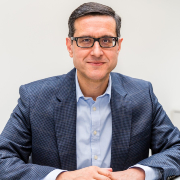 Indro Mukerjee is CEO of Innovate UK, the UK's innovation agency.
He is a highly experienced technology CEO and business leader with a track record of leading innovation and technology commercialisation in businesses of all sizes across the world, from publicly listed and multinational corporations to new venture and private equity backed technology companies.
Indro has extensive experience of leading fast growth; start-up; spinouts; restructuring; turnaround and successful M&A. Much of his time was spent in Asia and the US.
With a strong personal interest in the development of skills for industry, he cofounded the UK Electronics Skills Foundation and served on the SEMTA (now Enginuity) board for nine years, where he was also chair of the committee managing their investment fund. He is also a passionate advocate for diversity, equality, and inclusion.
Indro has a degree in engineering science from University of Oxford, is a graduate of the Wharton Advanced Management Program and speaks several European languages.
Indro was elected as an Honorary Fellow of The Royal Academy of Engineering in September 2022.
Last updated: 1 September 2023