Since 2011, joint public and private sector strategic investments in the Biotechnology and Biological Sciences Research Council (BBSRC) Research and Innovation Campuses have delivered innovation infrastructure totalling over £200 million.
Vision
BBSRC's strategic goal is to support the development of distinct research and innovation ecosystems that are centred on, and draw value from, the world-leading bioscience and national capability of the institutes that receive strategic funding from BBSRC.
As key players and contributors to the UK research and innovation system, these research and innovation Campuses aim to:
nucleate regional clusters and work with key stakeholders (for example LEPs, regional bodies, combined authorities) to deliver local strategies and impact, attracting and nurturing highly innovative businesses, creating high-value jobs, attracting inward investment, enhancing collaboration and accelerating scientific impact by businesses.
add significant value to the wider regional, national and international innovation ecosystem, delivering wide-ranging social and economic benefits to the UK.
create a unique, defined and dynamic research and innovation ecosystem nucleated by a critical mass of world-leading science, talented people, national capability, specialist research-led facilities and infrastructures at each location.
As part of this, the Campuses:
grow a connected and collaborative community, where discovery scientists, engineers, innovators, entrepreneurs and businesses converge to advance scientific understanding and accelerate innovation through the exchange of ideas and knowledge
promote and embed an enterprising culture on Campus, nurturing very early stage ventures, accelerating scale-up, and anchoring established companies in an interconnected and collaborative ecosystem
drive innovation, stimulating more value from fundamental research and meeting the needs of the diverse sectors that research underpin.
Campuses
BBSRC is working with partners and stakeholders to develop five national Research and Innovation Campuses, centred around seven institutes that receive strategic funding from BBSRC.
The Campuses are each distinct and at a different stage of maturity. Each Campus has a different bioscience focus area, unique flagship facilities and a diverse range of support, such as accelerator programmes. Please visit their websites or contact them directly for more information.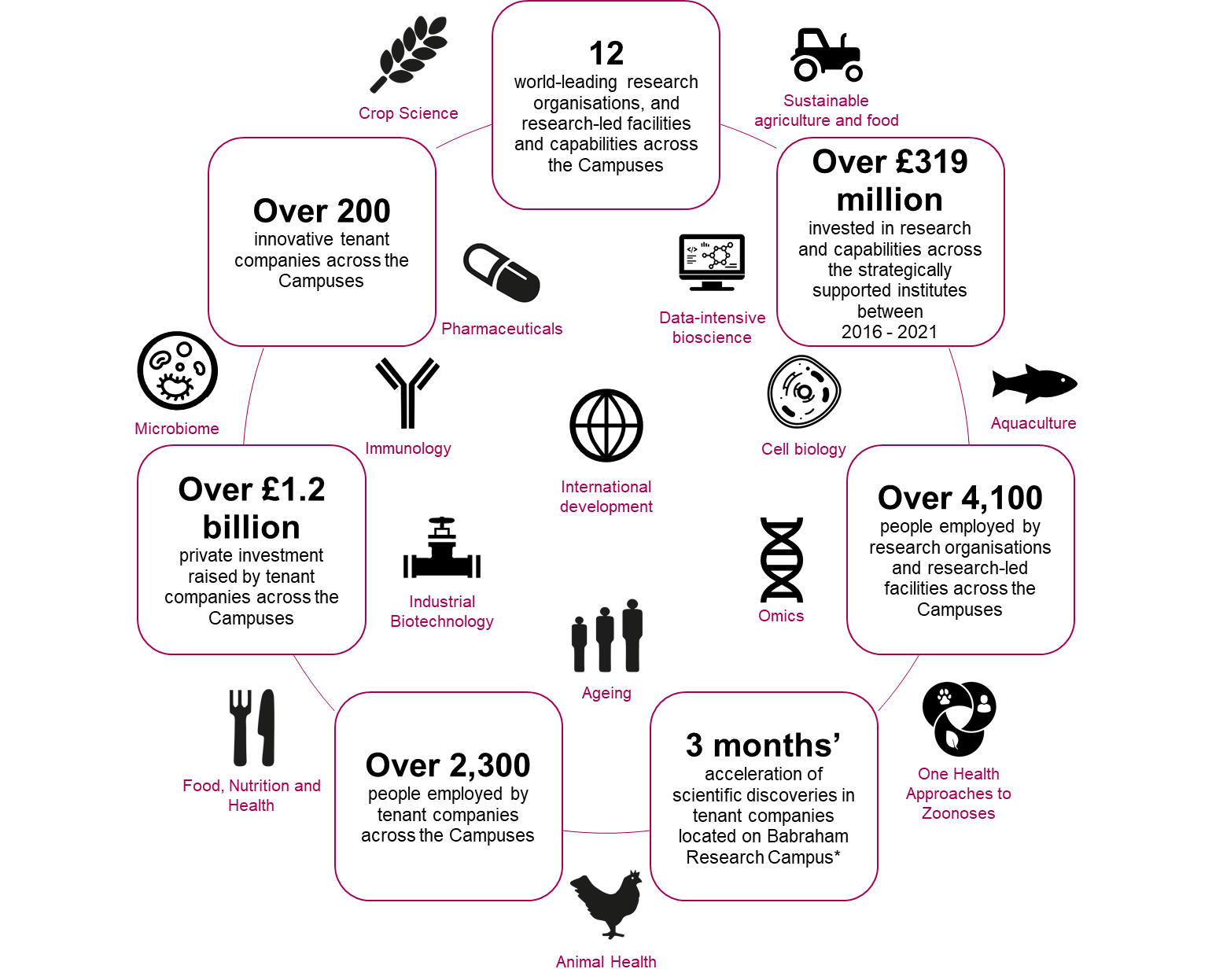 We recognise 'the whole is greater than the sum of the parts', and seek to support creative investment across all of the Campuses to drive impact from investment in research and capability to deliver the widest possible social and economic benefit, nationally and internationally.
The five BBSRC Campuses are part of a wider network of UKRI Research and Innovation Campuses, including those supported by STFC. UKRI Campuses are strategically partnered and aligned with UKRI, helping achieve UKRI's mission to build a thriving, inclusive research and innovation system that connects discovery to prosperity and the public good.
Contact
External contacts
AberInnovation
Email: innovate@aber.ac.uk
Babraham Research Campus
Email: info@babraham.co.uk
Easter Bush Campus
Email: info@roslininnovationcentre.com
Norwich Research Park
Email: enquiries@norwichresearchpark.com
Rothamsted Enterprises
Email: info@rothamstedenterprises.com
Last updated: 5 January 2023