ESRC council member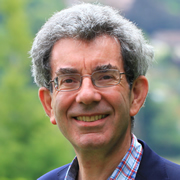 Nigel Gilbert is a computational sociologist and Professor of Sociology at the University of Surrey. Nigel is Director of the ESRC-NERC Centre for the Evaluation of Complexity Across the Nexus (CECAN). He was previously a Pro Vice-Chancellor at the University of Surrey.
Nigel was one of the first to use agent-based models in the social sciences and has since published widely on the methodology underlying computer modelling, and on the application of simulation for applied problems such as understanding commercial innovation, managing environmental resources, and supporting public policy decision-making.
He is a Fellow of the Royal Academy of Engineering, a Chartered Engineer, and a Fellow of the Academy of the Social Sciences. In 2016, he was awarded a CBE for services to engineering and the social sciences.
Term ends: 31 March 2020
Last updated: 12 September 2020