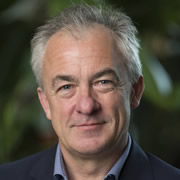 Professor Mark Thomson is Executive Chair of the Science and Technology Facilities Council (STFC).
STFC, one of the nine councils of UK Research and Innovation, is responsible for particle physics, astrophysics, space science and nuclear physics.
Professor Thomson is also responsible for the large-scale multidisciplinary research facilities at the UK National Laboratories.
Within UKRI, Professor Thomson leads on infrastructure, including e-infrastructure, and is currently directing the work to produce the UK's first 'research and innovation infrastructure roadmap'.
Professor Thomson has held national and international research leadership roles at the forefront of particle physics in both neutrino physics and collider physics. Most recently, he has been the co-leader of the Deep Underground Neutrino Experiment (DUNE), a collaboration of over 1,000 scientists and engineers.
Beyond his own research, Professor Thomson has held numerous research oversight roles in the UK and abroad. In 2013, he published 'Modern Particle Physics', a textbook that has been widely adopted for undergraduate courses at universities around the world.
Last updated: 31 July 2023