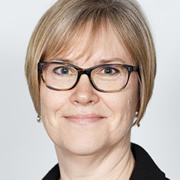 From 1 April 2018, Professor Dame Melanie Welham has been Executive Chair of the Biotechnology and Biological Sciences Research Council (BBSRC), part of UK Research and Innovation (UKRI), and for two years prior to this, she served as Interim Chief Executive of the Council. Melanie joined BBSRC in October 2012 as Director of Science, initially on secondment from the University of Bath.
At the University of Bath, Melanie was a leading researcher in molecular signalling and stem cell science and was the first woman to be appointed a professor in her department. She obtained her first degree in Biochemistry from Imperial College London before undertaking a PhD at University College London, followed by postdoctoral research at the University of British Columbia, Canada.
Melanie has a well-developed understanding of the requirements and demands of catalysing, supporting and delivering bioscience research, especially the interface between the Council and the research and innovation community. Earlier in her career, she was awarded a BBSRC Research Development Fellowship and for more than four years she served on BBSRC peer review committees, including periods as either chair or co-chair. Professor Welham also served on the advisory committee for the UK National Stem Cell Network from 2009 to 2011. She is currently a Member of the Board of Trustees of the Human Frontiers Science Program Organisation and a Member of the Governing Board for Science Europe.
Professor Welham has long been an advocate for equality, diversity and inclusion, playing a leadership role and engaging in activities to promote the EDI agenda. Alongside the leadership of BBSRC, Melanie is also UKRI Executive Champion for People, Culture and Talent.
Last updated: 20 October 2023