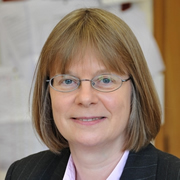 Professor Gladden was appointed Executive Chair of the Engineering and Physical Sciences Research Council (EPSRC) in October 2018.
Prior to this, Professor Gladden was Shell Professor of Chemical Engineering in the Department of Chemical Engineering & Biotechnology at the University of Cambridge.
Her research has focused on advancing magnetic resonance imaging techniques, originally developed for use in the medical environment, and using them in engineering research to gain greater understanding of the physical and chemical phenomena that determine the performance of chemical processes and their resulting products.
In addition to her own research, Professor Gladden has held a number of research oversight roles in the UK and abroad, and has also been Pro-Vice-Chancellor for Research at Cambridge. She is currently a Judge for the Queen Elizabeth Prize for Engineering.
Last updated: 26 October 2020